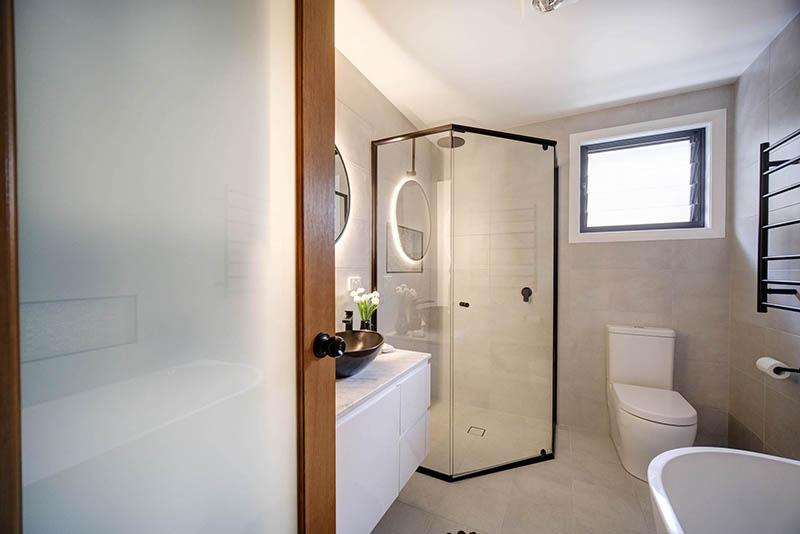 Are you planning a bathroom renovation in 2023? If you've answered yes, you've come to the right place.
With another year in front of us, it's time to start putting those big-picture dreams into action. And, if you're planning on a home renovation in 2023, we have researched the latest bathroom renovation trends from far and wide for the year ahead, so you don't have to.
If you're making big home renovation plans or are interested in home renovations, then BS Nelson has you covered. Servicing the Forster/Tuncurry area, we are expert home builders specialising in home renovation and can assist you with making your 2023 dreams a reality.
What's Hot in 2023?
A lot is going on in 2023 that bucks the trend of previous years. As restrictions worldwide start to ease off and life becomes more and more free-flowing, the days of sterile-looking home renovations might be coming to an abrupt end. Never say never, but the restrictive lives we have had to live over the past few years are forcing us to break out of our comfort zone and be bold.
Many trends are floating around this year, so we've decided to take some key bathroom renovation ideas for you to consider in your home renovation plans.
Make 2023 Colourful Again
Bathrooms are places to de-stress and unwind. So, why not bring colour into these areas to spark a mood?
Homeowners and designers want to see houses "pop" up in 2023. Bold colours will return to bathrooms in 2023, bringing new life and depth to the long reign of the white or grey bathrooms of the recent past.
You will likely see anything from black and white or combinations of colours, light blue and olive green, to cotton candy sky shades. There will be something in the spectrum that inspires you this year.
Remember that with paint, if you don't like it, you can always change the colour, so this might be the easiest renovation idea from our list to choose from if you're not ready to take a huge risk.
Vertical Lines & Layers
This year it's all about going vertical and creating new layers in your bathroom.
Say goodbye to conventional wisdom when it comes to bathroom tiling and cabinetry. If you're planning on something like the railway tile in your bathroom, tilt your head to one side, and you will see the new shape of tile design in 2023.
The large format tile may make way for intricate and detailed mosaic tile designs that breathe new life into your bathroom. However, while we see this as a possible trend, we are certain that the large-format tile will still be around for years.
After years of white and grey dominating the bathroom, wood is making a return in 2023. Natural wood tones become focal points in the bathroom, and cabinetry brings back more complex layers of lacquered and painted finishes.
Bathroom cabinets will feature vertical lines, adding contrasting layers that bring warmth and depth to the bathroom, which hasn't been seen in years.
Make a real statement in 2023 with interesting layering and line effects in your bathroom.
High-end Materials
When you go through a home renovation, you do so with the view that it's for the medium-long term, so when going through this process, it's important to use the right materials to go the distance.
High-quality plumbing, fixtures, fittings and materials will be big in 2023.
Marble, quartz and stone surfaces will be popular features in the bathroom that build on the layering trend that will be big this year. Marble benches with a natural timber finish will likely be a big hit and is a bold way to let your personality shine.
Remember that renovating with high-quality materials often comes with a higher price tag. So, speak to your home builder if you're prepared to commit to materials that should last you through to your next home renovation.
What's Out in 2023?
Minimalism
Minimalist design is taking a vacation in 2023. The industry and homeowners are screaming for something new, so we're bound to see less basic bathroom renovations and many more designs showing off people's personalities.
Bathrooms are no longer seen as a place of function. They are becoming statement pieces in their own right in the home. A place that sparks a conversation when having friends and guests over.
With more people at home, we think this move away from minimalistic bathroom design might stick around for a while.
All-White Bathrooms
Clinical and sterile all-white bathrooms evoke the feeling that everything is and should be spotless, but this year's trend is to move away from the overtly domineering white bathroom and go bold.
We don't think that the all-white bathroom is going away forever, but we're seeing a change that people want to bring colour back into their homes. Colour inspires moods and emotions, whereas white can sometimes feel a little lifeless.
Before You Renovate
That's probably a lot to take in 2023. What colour do I choose? Do I go vertical or layer? It can be an overwhelming experience thinking about a home renovation, but you've got this!
We're not here to tell you what you should do with your home renovation because that is a very personal thing. Our home renovation experts aim to help you make the right choice by providing you with relevant and informed information.
It's important to remember yearly home renovation trends come and go, so it's always best to think about your household needs and, if ever in doubt, speak to home building/home renovation experts who can help walk you through what is right for your home.
Ready To Kick Off Your 2023 Bathroom Renovation?
At B&S Nelson, we are building and home renovation experts in Forster/Tuncurry. Our understanding of home building/home renovation is unparalleled, and you can have peace of mind that when choosing us as your builder, you are at the centre of what we do.
If you're ready to build or renovate in coastal New South Wales, phone the expert home renovation designers and builders here at B&S Nelson today at (02) 6555 3484, or fill in an online contact form, and one of our consultants can contact you at a preferred time.