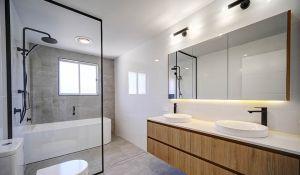 Bathroom renovation can be both big and small jobs. You may just be replacing a vanity, or you could be renovating the whole thing. Either way, they have the potential to be an expensive project, and the costs really stack up if you find yourself having to fix mistakes.
This can be frustrating, especially if it could be avoided. As the main bathroom renovation contractor Tuncurry turns to, the bathroom renovation experts at B&S Nelson are here to help.
Read on for some of the common mistakes that people make during a bathroom renovation so you know what to avoid. As always, the definitive answer to a successful bathroom renovation is a call to our experts. For now, however, consider these important tips.
Tip #1: Always think about the bathroom fan
It can be very easy to overlook one of every bathroom's most important features – the exhaust fan. It is vital that you include this as part of your renovation and ensure it is the right size for your space. If you don't, humidity gets trapped in the space, and over time, mould and mildew will form.
Without proper ventilation, the paint, grout, and metal in your bathroom will deteriorate, leading to unnecessary and expensive repairs down the track. It is also important to ensure the vent for your exhaust fan is clean of dust and debris.
This is particularly worth considering if you've just finished a renovation. The last thing you want is to turn on the fan and blow construction dust all over your clean, new bathroom!
Related Post:
Tip #2: Plan everything
We're sure you know the old adage about failing to plan, and it may be somewhat cliche of us to put it here, but it is true. Without one, you are planning to fail! Planning is everything, and when it comes to a bathroom renovation, realisations after the fact can be costly.
Your design plan for the new bathroom should cover everything, inclusive of precise measurements, costings, required materials, and samples. Trust us, putting in the extra effort beforehand will save many disasters later on. Never wing it when it comes to a bathroom reno!
Tip #3: Always allow for enough space
A good bathroom plan considers both looks and function. A lot of people get caught up in the decorating aspect of their redesign but forget about layout and spacing. This is a vital consideration, especially if you are pulling down walls or moving plumbing fixtures.
There are layout requirements for building codes and minimal spacing guidelines, but more importantly, you want to ensure your new bathroom is comfortable to use. This is one of the areas in which help from a professional can be invaluable.
Tip #4: Carefully consider your materials
Of all the rooms in your home, bathrooms are one of the main ones requiring specific materials to handle the activities within them. Primarily, there will be a lot of moisture and very quick temperature shifts.
You'll want to ensure you are using materials that do not warp, prevent mildew and are essentially designed specifically for the bathroom. If you are including wallpaper in your design, it is very important to ensure it can survive high humidity, or you'll be replacing a lot sooner than you likely planned to.
Tip #5: Plan a realistic budget
No matter what, your bathroom renovation will likely always be more expensive than you thought it would be. If your budget is limited, stick to what you can afford and never cut corners on the important stuff for aesthetics.
When forming your budget, always allow a buffer to account for any extra costs that will likely arise. We often recommend you include an extra 15 to 20 per cent for this. If you don't end up needing it, it's money in the bank!
Tip #6: Fix the small errors
There may be a gap in the new tile job or other mishaps that are "good enough", but the smallest errors will plague you daily. Be thorough and fix mistakes as they happen, no matter how tiny they may seem. This is particularly important in wet areas when it comes to sealing and finishing, as water damage can happen under the surface.
This not only ensures quality and longevity but it preserves your sanity. Small errors grow over time after you've noticed them once.
Tip #7: Keep at it
The most exciting part of any renovation is the beginning. Make no mistake, it will be hard work, and after a while, those long hours become draining. This is where corners get cut, and mistakes happen.
Never rush, work at a steady pace and no matter what, make sure everything is done correctly. It is important to consider this when you are in the planning phase to create a realistic timeline of how long your renovation will take.
The best way to avoid every possible mistake
The surefire way to ensure that your project runs smoothly is by getting help from the finest bathroom renovation contractor Tuncurry has to offer. B&S Nelson is a highly-respected building and renovation specialists located in the Forster/Tuncurry area and is available to ensure your process is stress-free and successful.
If you are short on time, leave your bathroom renovation to us and avoid any costly mistakes that can be all-too-common during a DIY attempt. We have a significant portfolio of successful bathroom renovations and will work with you to ensure a realistic design that works for your space and budget.
Book a consultation with our bathroom renovation experts today, and let's create the look of your dreams. By the time we're done, you'll have the perfect revitalisation haven for your home and a giant smile on your face. Let's get to work!