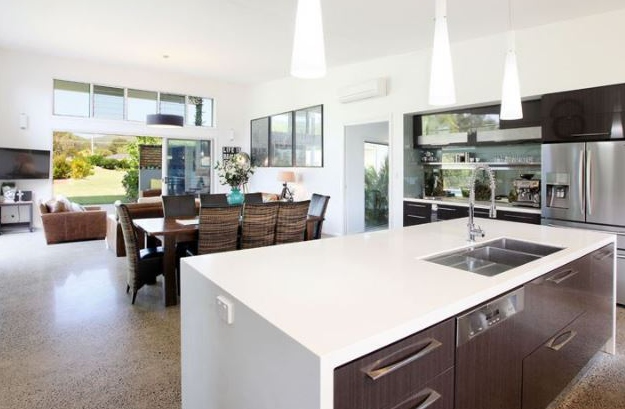 Do you have a family vacation home? Ray Morgan Research estimates that around 560,000 Australians report having a holiday home, with one in twenty Melburnians taking the lead, followed by Sydneysiders, Brisbainians, Adelaidians, and Perthies in the West.
There are many ways individuals or families obtain a family vacation property home, including:
Inheritance
Timeshare
Investment
Family or friend syndicates
Outright purchases and more
Often family holiday houses can be a little dated and potentially run down, especially if the home is on or around the coastline where salt air promotes premature degradation.
Over time, the lifestyle and needs of a family change, and holiday home renovations may be necessary to accommodate growing or ageing families. Although complete renovation is often the ultimate goal, there may be some things you want to consider prioritising as you work your way through the property.
Read on to learn more about what to renovate in your family vacation home with our family vacation home experts at B&S Nelson, industry leaders for vacation home renovation services in Tuncurry/Forster.
Vacation Home Renovation Priorities
The great philosopher Socrates said, "To know thyself is the beginning of wisdom". While this is timeless life advice, it is also great advice for planning a seamless holiday house renovation.
The main questions to ask are, what is the intended future of the house, what needs immediate attention, and what rooms and utilities are used the most?
A large family holiday home's renovation priorities will be significantly different from a fishing shack used to store the boat and crash on the weekends after a day in the water.
If you are looking for home renovation services in the Tuncurry area for your holiday home renovation, call B&S Nelson and discover why they are a trusted name for home builders in Forster and Tuncurry.
Appliances and utilities for vacation home renovations
Appliances and utilities can be some of the more expensive purchases for a vacation home renovation. The scope of your holiday home renovations may alter your appliance priorities, both in order of purchase and cost.
Do you only visit your holiday home on long weekends and treat it more as a minimalist getaway? Then you may be better off finding some bargains on local classifieds and social media marketplaces.
However, if you are planning more significant upgrades with a vision to make your holiday home your permanent address in the future, you may want to rearrange your appliance priorities and invest in brand-new appliances to futureproof your property.
Examples of the type of appliances for consideration include:
Washing machine
Fridge
Freezer
Hot water service
Security systems
Wifi and internet connection
Mains or bottled gas
Oven and cooktop
Dishwasher
Exhaust fans
Microwave
BBQ or grill and more
Things to consider when reviewing your appliance priorities include:
The condition of your existing appliances and utilities
What appliances and utilities will get the most use
Which appliances and utilities will be needed immediately
Which appliances and utilities keep the house the safest when you are not there
Which appliances and utilities will last the longest
When renovating your appliances and utilities, your budget will likely hold the most sway over your options and decisions. Structural renovation priorities must also be considered when planning an appliance and utility budget; there is no point in buying nice new appliances if the ceiling is giving way overhead.
Family vacation home bathroom renovation
Bathrooms are one of the most important utilities of the home, and the last thing you want in your holiday home is an unreliable toilet, bath and shower system.
While the outhouse at the riverside shack may not need immediate attention, this may not be the case for your family getaway, which may be used by other families who have leased the property from you.
Today, many holiday houses act as supplementary income, either through privately listed hires or via popular online accommodation services like Airbnb. If this is the case, then the quality of your bathroom renovation and utilities can significantly affect your star rating, directly affecting your hire rates and profitability.
Holiday home kitchen renovations
The holiday home kitchen can often get overlooked as it is not being used regularly; however, whether at your primary or secondary address, your kitchen is the central hub of your home.
Holiday homes are often outside major metropolitan areas, limiting takeaway food and supermarket options. This means you may cook more at the holiday home than at your primary residence.
There is little more frustrating than cooking more than usual in a kitchen that offers no prep space and sub-par appliances. Like your bathroom, a kitchen renovation may want to be prioritised over bedrooms and living spaces.
A kitchen is also a utility that can significantly affect your star rating if your family vacation home is listed on Airbnb or other accommodation sites.
Shared areas
Shared areas of the home should be prioritised in order of the most used. This can be different for all families and holiday homeowners and can be influenced by the climate and the number of people who regularly frequent the vacation home.
Tropical holiday home by the coast may mean you spend more time by the BBQ, pool and outdoor areas, reconnecting with your loved ones, playing games and enjoying the fresh air. This may make renovating your outdoor entertainment areas a preference over the lounge room.
However, if your vacation home is in the snow, the living room may want to be prioritised over your outdoor spaces to gather at night and stay warm by the fireplace.
Not all vacation properties are intended for lush living, and the rustic and minimalistic charm of a more minimalist property may be part of the appeal; family vacation home renovations are often as unique as the families that own them.
Home renovation specialists at Tuncurry/Forster
If you are looking for holiday home renovation services, Tuncurry, Forster, and surrounding New South Wales mid-coast communities, then contact our holiday home renovation specialists at B&S Nelson today.
To speak to one of our home renovation specialists, contact us by phone on (02) 6555 3484, or drop us a message via our online contact form, and we can contact you at your convenience.
Related Posts: