QUALITY BATHROOM RENOVATIONS

FORSTER TUNCURRY NSW
For over 30 years B&S Nelson have been creating stunning bathroom renovations in Forster Tuncurry,
with many happy customers. We offer quality workmanship and a personalised service
ensuring you are completely happy with your newly renovated bathroom.
PLANNED APPROACH TO BATHROOM RENOVATIONS
We take a planned approach to all our bathroom renovations which keeps you involved at every step, to ensure you are delighted with the end result.
Our experience covers small bathroom renovations, to luxurious open-spaces, giving the same thought and attention to detail for all our building renovation projects.
From initial discussions about bathroom design, agreement on works to be conducted, formal contracts, accessibility to your home, respect for your neighbours, start date, completion date, management of variations, including you in critical decisions, introducing you to our suppliers personally, giving you lots of advice and communicating regularly through to seeing your smiling face; our objective is seeing your delight!
Call us on (02) 6555 3484 to discuss your project today! Your Forster/Tuncurry Renovation Specialists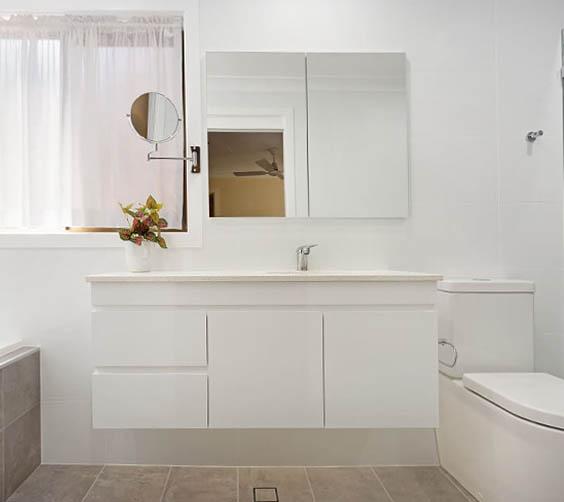 HOW LONG DOES A
BATHROOM RENOVATION TAKE?
The bathroom renovation process usually takes between four to five weeks. The process is often a bit slower during the winter as the weather tends to slow down the drying times.
The waterproofing and sand cement bed all need to fully cure before moving to the next stage.
Shower screens take up to 10 days to be ordered and installed. They can't be ordered until the wall tiles are installed so that we can take accurate measurements. All of these contribute to the duration of the renovation.
WHAT AFFECTS THE COST OF MY
There are several factors that affect the cost of the project. They include:
How much of the old internal linings will need to be replaced?
Will the doors, jambs, or windows require replacing?
How much painting will need to be done?
Is the bathroom on a slab or timber floor?
Is there asbestos?
Does the plumbing need to be relocated or completely replaced?
Is the timber floor still in good condition, or is it roed or damaged by termites and moisture?
Do you want underfloor heating?
Is there a need for some extensive electrical work?
What are the prices of your preferred tiles and other inclusions?
How high are you planning to tile?
What is the level of access to the room from the driveway? In situations where there is a considerable distance or difficulty, the price will vary.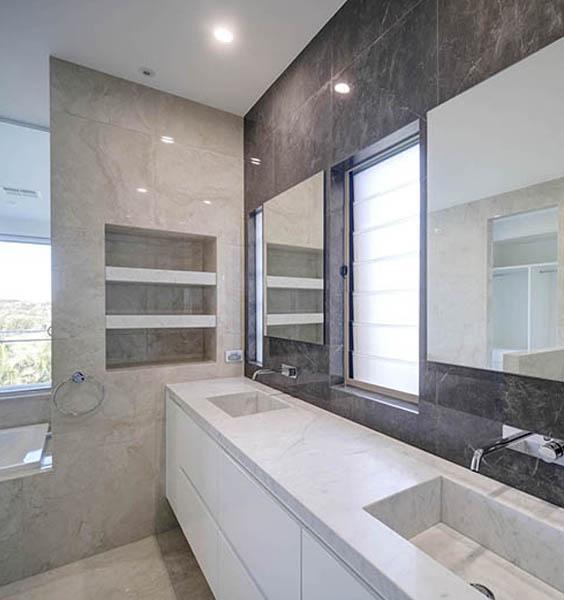 HOW MUCH DOES A

RENOVATION COST?
Generally, a small ensuite can cost between $25,000 and $45,000 for a full renovation and redesign. A standard bathroom can cost between $30,000 to $65,000.
Check out the size of our team required for a Bathroom renovation.
I. Carpenters
ii. Plumbers
iii. Electricians
iv. Plasterers
v. Carpet layers for when the room is adjacent to carpeted areas
vi. Painters
vii. Tilers
viii. Waterproofers
ix. Shower screen and mirror installers
Our team is made up of the best with decades of combined experience in bathroom renovations.
Bathroom Renovations
in Forster/Tuncurry
A picture tells a thousand words; a video tells lots more …
Take a peek at these stunning bathroom renovations and remodelling in Forster Tuncurry NSW.
BATHROOM RENOVATION

INSPIRATION
Browse through our gallery of bathroom renovations to help inspire your new bathroom design!
WE ARE NOT JUST ABOUT DOING THE WORK FOR YOU, WE DO EVERYTHING WITH YOU AS A MEMBER OF YOUR TEAM!
The pictures below show how we have transformed bathroom spaces. Small bathroom designs, large luxury bathroom designs and bathroom renovations on a budget – we can help you along the bathroom renovation journey.
Just imagine the changes we could make to your bathroom!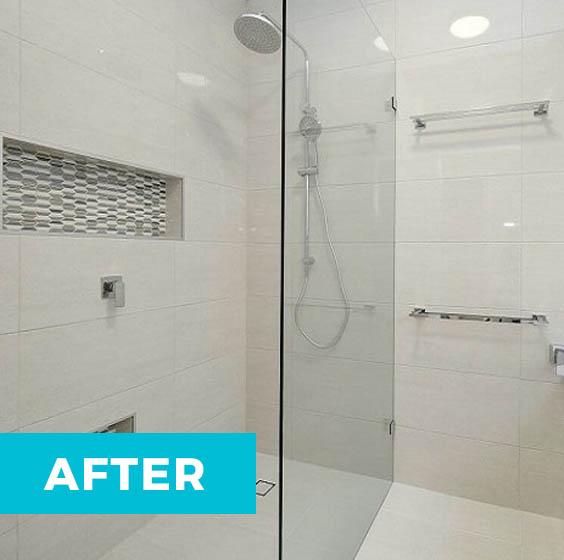 CONTACT US NOW FOR A BATHROOM RENOVATION CHAT. WE BELIEVE WE ARE THE BEST BATHROOM RENOVATION BUILDERS IN THE FORSTER/TUNCURRY AREA.
Frequently Asked
Questions
Bruce & Leonie
We engaged Steve Nelson and his team to renovate our old kitchen and family room. From the outset the experience was beyond any of our expectations. The amount of support in the early design stages was tremendous. All through the project the level of professionalism, communication, quality, and care was excellent. Many of Steve's suggestions were included in the final project. What to many might be a simple kitchen "reno" was for us the realisation of a dream family space and it could not have been a more successful without the fabulous team at B&S Nelson Building Services. Thanks Steve, we are only too happy to recommend you and all your team.
Graham & Lyn Saunders
Steve & Bob Nelson did a complete inside and outside renovation, plus added a living room and extra deck space for us ten years ago. Completely transformed our house. This year we added another bedroom, bathroom and bigger deck, plus upgraded over 160 square metres of floor tiles and carpet. Didn't hesitate to contact Steve as we were pleased with the first renovation and even  more so with the latest project. Steve's tradesmen were excellent and a pleasure to work with. Highly recommended Steve for any renovations or additions.
Greg Saggus
Steve recently undertook the job of designing and renovating our 30 year old bathroom. His contractors and staff transformed the old into a fantastic, modern new bathroom. We love the finished product and were extremely happy with the level of professionalism that he applied to all our interactions. Steve worked with us on the design and was flexible in his approach to any changes we wanted to make throughout the build. I would recommend B&S Nelson Building Services for their reliability, honesty, quality workmanship and great service.
Ray Wakeling
As interstate residents living in South Australia we did extensive research locally here in Forster to investigate recommendations for a local builder to manage our Forster property renovations. B&S Nelson was a name that consistently came up and after meeting Steve and discussing our reno plans we felt very comfortable to leave our project in his hands. We have no hesitation in saying that we made the right decision. Living interstate we really did rely on Steve not only as our builder but as our project manager. Steve constantly sent us a flow of photos of our site progress. We truly felt confident and informed through the total renovation. During our few onsite visits it was great to meet his team of builders, plumbers, electricians and painters who all added to the outstanding result we obtained with our Foster home. Every day now we enjoy the results of the work Steve's team achieved and would be very happy to recommend B&S Nelson to anyone considering any home renovation.
Wendy Machin
B&S Nelson renovated our holiday house in mind 2018. Steve was a pleasure to work with and has a practical "can do" approach to all challenges. As we were not around all the time, there was more responsibility on the builder. Our project was on me and on budget. We would definitely recommend Steve and B&S Nelson!
Allan Butler
Steve and his wonderful team recently finished a complete renovation of our bathroom and we are thrilled with the end result, we found Steve and his team to be helpful, friendly and professional. Shaun you really are a tiling genius! The work is first class and we will be seeking Steve's help with future projects. Highly recommended.
DOWNLOAD OUR TIPS & GUIDE ON WHAT TO KNOW BEFORE RENOVATING
Call your Forster / Tuncurry renovation
specialist today on (02) 6555 3484 and discuss
how we can improve your living spaces.