Building Your Dream Home
We know that one house does not fit all!
You may be thinking about knocking down an existing house and rebuilding, or perhaps you have an empty block of land ready for your dream home or you might just ben in the planning stages. Regardless of where you are at, we'd love to hear your plans and ideas.
The B&S Nelson team understands that creating a home that works for you and your lifestyle is a highly rewarding experience. That is why we have created our Start Smart consultation process where prior to you investing time and money into architectural designs, you can have a one-on-one chat with our Head Builder and gain a clear understanding of exactly your needs and how this fits into your budget. Find out more about our Start Smart process here. 
Our greatest satisfaction is in delivering a home perfectly suited to your lifestyle in the Forster Tuncurry area.
Each home is unique and designed to your budget
and your exacting requirements
Some people prefer contemporary, clean lines and finishes, while others love the coastal hues. You may want to maximise your view or accommodate for a new stage in life.
Our team will be applying their local experience, technical skills and expertise to listen, understand and bring your vision to life.
We understand that what you need from your home changes over time. Whether you are growing your family, requiring better accessibility or needing easily accommodate to visiting family and friends, our custom home designers and builders are creative problem solvers with extensive experience in a range of homes.
Custom Home
Recent Examples
Greenfield Place Luxury Custom Designed Home in Forster
Tim and Helen came to us in the early stages before they had even purchased their block. We were able to help them with the design and offer ideas along the way.
Seaview st Forster
Luxury Custom Home
Located on One Mile Beach Forster this is the second home we have created for Andy and Lindy. This is their final dream home and something we are so proud of.
Kentia Drive Forster Luxury
Custom Designed Home
Brian and Jane made the sea change to Forster and built this luxurious home near One Mile Beach, Forster. The challenging site meant the house had to be multi story and we were able to create a truly unique home.
Manara Crt Forster
Villa Development
This is one of the many Duplex / Villa developments we have built in the Forster / Tuncurry area over the last 30 years. Villas are extremely popular in our area as they provide the homeowner with large living areas but minimal gardening and upkeep.
DOWNLOAD OUR TIPS & GUIDE ON WHAT TO KNOW BEFORE RENOVATING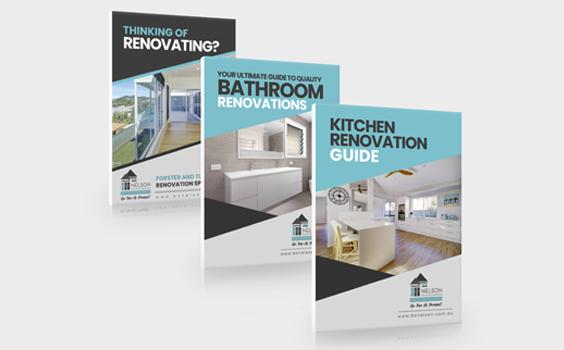 Call your Forster / Tuncurry renovation
specialist today on (02) 6555 3484 and discuss
how we can improve your living spaces.