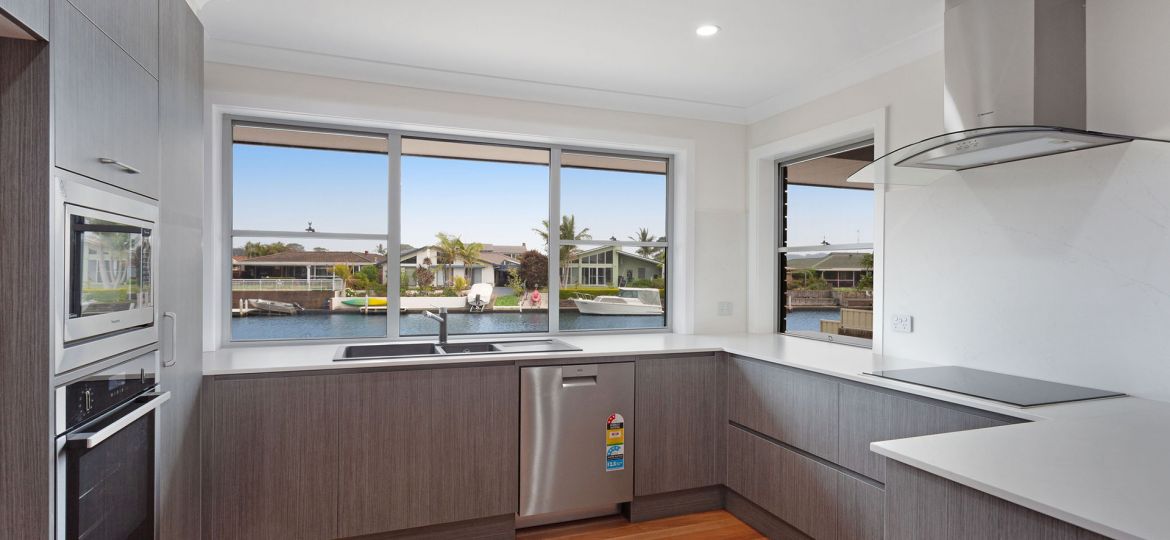 Kitchen Renovations – As our urban populations have expanded, our living spaces have gotten smaller. By default, home kitchens have also shrunk significantly since our modern careers and lifestyles have taken up more and more of our precious time.
However, having a small kitchen does not mean you must stick to small ideas when planning small kitchen home renovations. Instead, you can incorporate some basic concepts into your design to optimise your kitchen workflow, maximise your storage capacity, and give the illusion of more space.
So if you are ready to learn how to take things up, in, out and down a notch, read on to see our big ideas for small kitchen home renovations and why B&S Nelson is the best choice for professional home renovations, Tuncurry and surrounding New South Wales regions.
Downsizing your kitchen
If your small kitchen home renovation is in an older property, then you may want to consider downsizing your kitchen to suit a more modern lifestyle. Older kitchen spaces were designed for bigger appliances than the slimline kitchen utilities we see today.
By the time you cut back on space needed for your cooktop, fridge, oven, microwave and dishwasher, you could be amazed at how much space is saved.
When was the last time you pulled everything out of your cupboards and pantry? You might be amazed at how much space you gain when you do a cull of the kitchen appliances, gadgets, and utensils you haven't used in years.
Current model kitchen appliances, like food processors, generally offer multifunction capabilities, meaning you may be able to get rid of several devices from a single upgrade, which could save you copious amounts of storage space when designing your new small kitchen.
Maximise your storage
Modern kitchen design leaves no space to waste! What used to be dead zones in older kitchen styles are being turned into handy vertical compartments and creative corner spaces.
The new wave of kitchen design optimises any small space for things like utensils, herbs and spices, condiments, and other small items that used to fill up large areas with not very much.
There are also some great ideas online on how people have thought outside the box and optimised their storage space with simple shelving hacks and other unique storage ideas.
The team here at B&S Nelson are at the forefront of contemporary small kitchen home renovations and can show you all the latest and greatest in kitchen design and utilities. Call one of our expert consultants to find out more.
Open up the space
One of the most common ways to make a space feel bigger is to open it up. Removing things like overhead cupboards and creating hanging storage for pots and pans is an excellent example of how you can make a space feel more open and less claustrophobic.
Another way to open your space is to invest in an island on wheels that can be tucked away or pushed against a wall when it is not in use.
A mobile island can also be a great place to store utensils and cookware you will only use while cooking, freeing your remaining cupboard space for your all-day-access items.
A clear vision
In the 80s and 90s, it was common for people to put mirrored surfaces into small apartments to give the illusion of more space. Although this may be out of vogue with current interior design, utilising glass can still be an effective way to create the feeling of space.
By utilising glass-front cupboards or refrigerators, you can open up what is referred to in design as "negative space".
By seeing into your storage areas, your eyes are tricked into seeing the negative space as more accessible, therefore creating the optical illusion of a more open kitchen area.
Kitchen renovation Lighting Scheme
If your cooking area feels like a dank, dark hovel, then addressing your lighting scheme can be a very effective way to make your gourmet galley feel a little less confined.
And that doesn't just mean overhead lighting. L.E.D. Lighting technology has made getting ultra-creative with your small kitchen home renovation lighting scheme more cost-effective and less labour intensive than ever before.
The inside of glass cabinets, under overhead cupboards, skirtings, and runners, the sky is the limit.
Of course, you can go overboard, and there is a fine line between creative taste and getting a little ridiculous. Still, lighting is an interior designer's best friend when bringing a sense of openness to a small space.
Floored with ideas
Does your kitchen flooring need to be reported to the decor police? Still, rocking that late 70s lino? We know you're out there!
The busy patterns used on linoleum and vinyl kitchen flooring between the late 50s to late 80s can make a space feel cluttered and busy.
Installing a more straightforward flooring design, like installing large plain tiles or floating timber floors, can give your kitchen space more room to breathe, taking attention off the floor space and defining the lines and features of your kitchen.
Keep your kitchen renovation simple
The "keep it simple" strategy is a universal law that applies to almost anything in design.
If you have had the same kitchen for many years, then no doubt you have gradually collected a variety of fridge magnets, trinkets, cookware and utensils that have jammed up your draws more than they have seen any real meal prep.
Having a minimalist space not only keeps things feeling clean and open; it can also cut significant time off of your cleaning regime, and having a clean kitchen is another excellent way to make your cooking space feel inviting and open.
Experts in small home kitchen renovation
The team here at B&S Nelson Building Services is on the cutting edge of modern kitchen design and helping people make the most out of the available kitchen space.
If you are looking for fresh ideas for small home kitchen renovations, Tuncurry, and surrounding New South Wales Communities, then call one of our friendly staff today to arrange a consultation and a no-obligation free quote.
Leave your enquiry via our online request form, and one of our consultants can contact you at a preferred time.
Why not download our online guide to quality kitchen renovations and sign up for our mailing list? It's full of great ideas and inspirations for your next small kitchen home renovation.