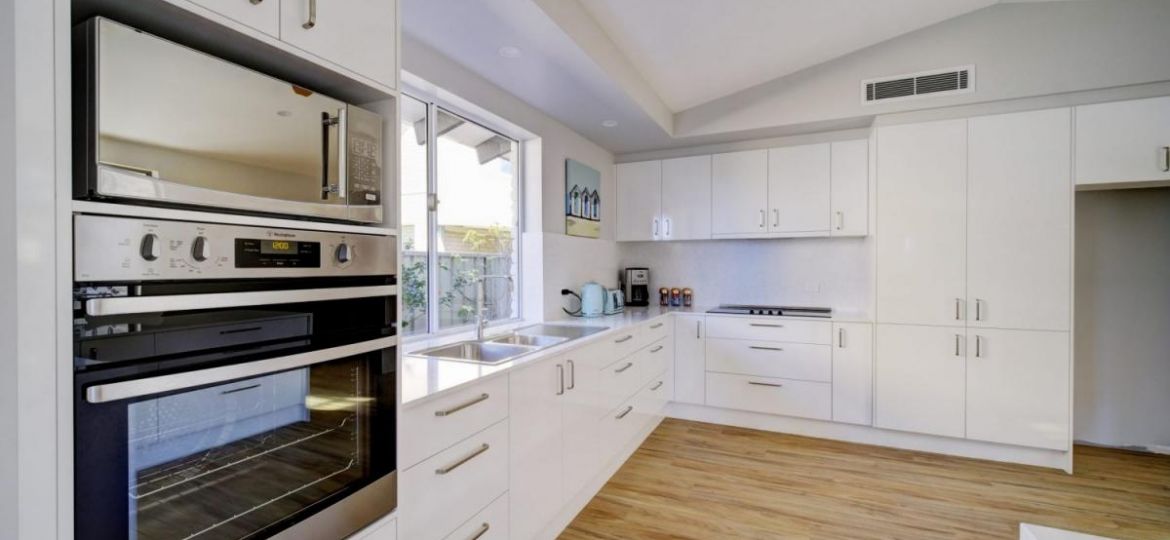 Your vacation home should be a little slice of paradise ready to welcome you immediately. If renting out your vacation home is an option, then a handy extra stream of income awaits, but in either case, the importance of turning your vacation retreat from a mere dwelling into an oasis of tranquillity and charm is paramount.
B&S Nelson is the home builder Tuncurry/Forster residents know and trust, and as renovation experts, we delve into the realms of renovation to ensure your holiday home makes every getaway a memorable masterpiece.
Make those windows bigger
Few architectural features are as transformative as tall and or floor-to-ceiling windows. These expansive windows frame the outside world like living works of art and create a connection between the interior and exterior, allowing you to bask in the breathtaking natural scenery that defines the essence of a vacation retreat.
Nowhere is the impact of floor-to-ceiling windows more than in beach houses. Big windows cast a warm and inviting glow across your living space, introducing abundant natural light into your vacation home. The brilliance of sunlight streaming through these expansive panes can radically transform the ambience of any room. Natural light is a powerful mood enhancer, creating an atmosphere of openness, positivity, and vitality.
The options are endless, from sleek modern frames that blend seamlessly with contemporary architecture to rustic wooden frames that exude warmth and character. The choice of window panes is equally diverse, ranging from clear glass for unobstructed views to frosted or tinted glass for privacy or to control the intensity of sunlight.
Add an outdoor kitchen
Tired of the hassle of a portable grill or taking food in and out of the house during outdoor gatherings? Outdoor kitchens let convenience meet elegance, functionality, and, when done right, style.
Adding an outdoor kitchen space to your vacation home can redefine the art of outdoor cooking and your level of entertainment. No more logistical challenges of makeshift outdoor cooking setups, an outdoor kitchen means all the tools and amenities you need to whip up a delectable meal are right where you need them.
Quality outdoor kitchen design is centred on two key principles: elegance and practicality. Your outdoor cooking space should be functional and seamlessly blend with your home's aesthetics. We recommend an emphasis on modern stainless steel appliances. Stainless steel not only exudes contemporary sophistication but also offers durability and ease of maintenance, ensuring your outdoor kitchen remains a stunning focal point for years to come.
Focus on improving the bathroom
There's no place quite like the bathroom in the realm of relaxation. A well-designed bathroom can transcend its functional purpose, becoming a haven of tranquillity and rejuvenation. When crafting the perfect vacation home, ensuring that the bathroom is up to the task of delivering the ultimate relaxation experience is paramount. After all, a getaway should be defined by moments of serenity and comfort, and the bathroom plays a pivotal role in creating those moments.
In the pursuit of designing a bathroom that resonates with the desires of vacation-goers, spaciousness and illumination take centre stage. People seek refuge in rooms that feel open and airy. When planning your vacation home's bathroom, consider using space-enhancing design elements. Mirrors that amplify the room's depth strategically placed windows that welcome natural light, and a layout that minimises clutter create an expansive, inviting atmosphere.
As the top choice for a home bathroom renovation Tuncurry/Forster-wide, we like to use neutral colour palettes and sleek materials. Clean lines and polished surfaces like marble evoke a sense of refinement, while their durability ensures lasting beauty.
Include LED lighting fixtures
Lighting is pivotal in setting the tone and mood of any space, and upgrading to LED lighting fixtures can work wonders in creating an ambience that is both invigorating and soothing throughout the home. Opt for cooler tones that mimic natural daylight, steering clear of the harsh, amber-hued light that can detract from a new renovation's modern and fresh aesthetic.
Begin with a Start Smart Consultation
An exclusive offering that B&S Nelson provides to ensure you get the most out of your renovation is a comprehensive exploration of your ideas, aspirations, and spatial requirements. With our expertise, we delve into every detail, taking precise measurements and sharing insights that only years of experience can provide.
The result? A unique and invaluable resource – a realistic ballpark estimate that unveils the financial landscape of your renovation. This service gives you a clear understanding of the financial commitment your project demands, allowing you to embark on the next phase of your journey fully informed and prepared.
Our team brings a wealth of knowledge to the design table, ensuring that your visions align with your budget. The B&S Nelson perspective is grounded in a builder's understanding of material costs, construction expenses, and other outlays. The Start Smart Consultation offers foresight and transparency for what will always be an investment that benefits from careful consideration and planning.
Start your project with B&S Nelson today
Our commitment to your project's success extends beyond bricks and mortar; we are passionate about achieving your vision. From the Start Smart Consultation to the finished outcome, we are with you on your journey towards the holiday home you've always dreamed of.
As the home builder Tuncurry/Forster homeowners have entrusted for years with builds and renovations, we care about outcomes. Our tried and tested processes, experience, and business relationships mean complete customer satisfaction. Enjoy the peace of mind that comes with the professionals, and let's make your getaway haven even more special today. All of our work is guaranteed, and we know you'll simply adore the final version of your new space. Let's chat!