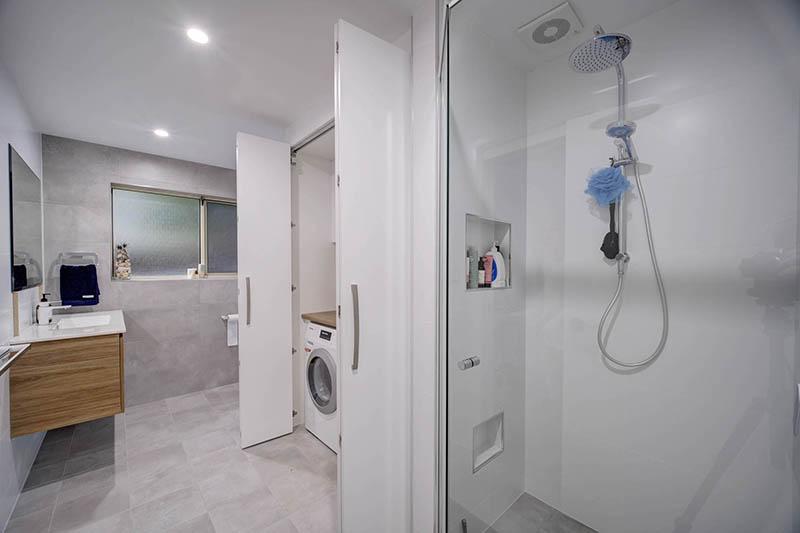 Space can afford you options in a bathroom. A majestic bathroom where you can relax and unwind to your heart's content is a dream for many. But let's come back to reality.
Not all bathrooms are the same, so when your bathroom isn't blessed with space, you may feel limited in terms of what you can build, but is it a limitation, or is it the only limitation of your imagination?
Suppose you're considering upgrading your bathroom as part of your home renovation plans. In that case, finding the right home builder to help you along the journey to turn a small bathroom into a relaxation oasis that can whisk you away to another world is essential.
This article will show you how to renovate a bathroom, creating space you never thought was possible.
Let There Be Light
If your bathroom lacks space by being tucked away in the depths of your house, it will probably look pokey and small. But don't worry; there is hope.
Try using natural tones like taupe or cream to enhance the feel of light and vibrancy.
Skylights are also a great way to brighten up any space, so if you're looking for natural lighting in your bathroom, that could be the right way. A small addition, like natural light, to your bathroom can make a big impact.
Less is more in a small bathroom build and is a great remedy to make your bathroom renovation come to life.
Go Dark. Be Different.
We might sound like we're contradicting ourselves here, but to spark your home renovation creativity, why not?
While some smaller bathroom designs take the soft, warm-tone approach, others go in the opposite direction with a dark colour scheme. While darker colours typically make spaces look and feel smaller than usual, you can open up a bathroom by creating a space with artificial light and mirrors.
A bathroom with darker tones gives you the sense of observing the night sky and, with artificial lighting added to the room, will create a series of unique and contrasting reflections that you wouldn't otherwise get with a lighter room.
If dark is your jam, it's possible to make your bathroom feel bigger by heading in this direction.
Zoned Out
If your bathroom lacks the space you need, a practical way to create the illusion of more space is to separate areas like your bathtub, shower and toilet in different shades of colour or textures.
Defining zones looks visually appealing and creates perfect separation in smaller spaces. Materials like wood panels can offset tiles or painted surfaces, giving off visually appealing vibes, but will also add character and charm to your bathroom.
Tiles
There are many ways you can dress up a bathroom using your trusty favourite – the bathroom tile. But which way do you go? Here are a few ideas to get you thinking.
If you love the large format tile, why not go all out by tiling the floors and walls in the same tile? This style of tiling bucks the previous trend of creating zones by giving your bathroom that seamless look. To add the look of more space, why not go for wall-hung fixtures to save a bit of space, and offset the colour with some bold towels or accessories to make it pop?
On the other hand, you could opt for statement tile patterns that bring colour and vibrancy to a bathroom, but this could be a potentially risky option as you don't want your space to become outdated. Playing it safe with colours and patterns that are less likely to go out of fashion while for some this might be a conservative road to head down, for others it might be the right move.
It's always important to remember why you're undertaking any home renovation and what your purpose is. If it's right for you to go big and bold in your bathroom, we say go for it!
Raise the Curtain
A simple yet effective way to add height to your bathroom is to raise how your shower curtain is positioned. While this design requires a little work with your home builder to install the curtain tracking from the ceiling, it can give that lift to the room you need.
Going up in small spaces is always a good way to go if you need more space.
No Curtain At All
While some renovations are looking up to create space, others are leaving things out altogether.
An easy way to create space in the bathroom is to open up your shower area without a curtain. This option isn't for the faint of heart, though. If you don't like the idea of water potentially going everywhere, then make sure you wear your practicality vs. aesthetic hat to weigh up your options.
A much more practical solution to the absence of a shower curtain is glass. Glass doors in the shower open up the space, and there are multiple glass designs you can choose from to suit your bathroom.
Whichever way you go, it's best to speak to your home builder to step you through the pros and cons of changing your shower into a smaller space so you can get the most out of your renovation.
Space Save to Save Space
This one goes without saying, but finding ways to save space in smaller areas allows you to work with what you've got while looking bigger than things appear.
If you can, find ways to recess walls to create shelf space, wall mount your taps and other fixtures so that they don't overly protrude and reposition things like your sink.
Small bathrooms mean space is at a premium, so every millimetre counts. Make sure you use your space wisely!
Want to Open Up Space in Your Bathroom?
At B&S Nelson, we are the home renovation experts, helping people create space in their bathrooms around Forster/Tuncurry. Our understanding of home building/home renovation is unparalleled, and you can have peace of mind that when choosing us as your builder, you are at the centre of what we do.
If you're in coastal New South Wales and ready to renovate your bathroom, phone the expert home renovation designers and builders here at B&S Nelson today at (02) 6555 3484, or fill in an online contact form, and one of our consultants can contact you at a preferred time.