David and Shelley have owned the home for a few years and made the seachange last year into their new home overlooking the beautiful One Mile Beach here if Forster/Tuncurry.
Through a local architect we were introduced and this is where we started to design and plan the renovation of their huge laundry and bathroom.
The room was full of asbestos meaning we had to call in the professional demolition team " Allstate demolition".
We removed some walls and opened the area up into one large area.
The " American Oak" Corinthian doors look fantastic! They set both of the rooms off and tie in nicely with the timber look laundry benchtop and the Timber vanity from "Timberline".
The Laundry has a large hot water system in the room which we have concealed in the cupboards along with a huge amount of storage.
The free standing corner bath is a beautiful feature in the Bathroom.
We have used the floor tiles on one of the walls as a feature tile which is a common thing to do at the moment. Gone are the days where we use lots of feature tiles.
The "Manhatten" shower screen was installed by Milligans shower screens. They are a frameless shower screen that runs seamlessly on the stainless steel wheels. They are easy to clean with minimal framing to clean around.
The pendent light is a nice feature over the bath  is another popular selection our clients are liking
All of the windows were replaced to the lower level. We used "Tuncurry Windows'. The Louvre windows in the Bathroom are a real feature in the room
We are so proud of what our team has created again and want to thank David and Shelly for their kind words.
We are currently talking to them about the next stage of their renovation which is of a larger scale. I cant wait to see your home at the end of 2021 when its all completed.
When we purchased our house, we knew we were up for a major bathroom and laundry renovation from an outdated 1970's style to something that was light and open with clean lines. We contacted Steve Nelson and right from the start, found his professionalism and organisation to be first class. Having some minor building experience with past renovations, the quality of the workmanship and the solutions found when building new on old was brilliant. Steve's project management skills succeeded in delivering our vision. We could not be happier with the end results. Many thanks to Steve and the team.

DOWNLOAD OUR TIPS & GUIDE ON WHAT TO KNOW BEFORE RENOVATING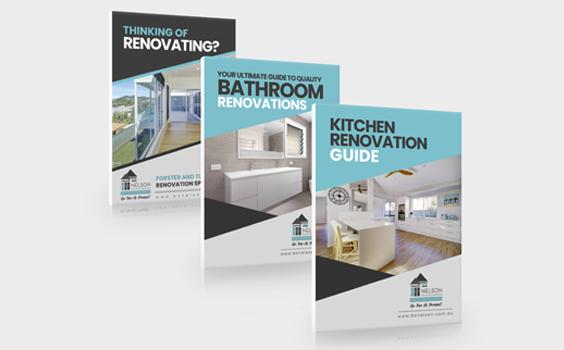 Call your Forster / Tuncurry renovation
specialist today on (02) 6555 3484 and discuss
how we can improve your living spaces.
Either click here to send us a message