Kitchen renovation and Bathroom/Laundry renovation
This has been a fantastic result we have created for our repeat clients and friends in Tuncurry NSW.
The project was a Bathroom/ Laundry conversion along with a new Kitchen from Viison Kitchens in Forster.
The Bathroom and Laundry were separate rooms, we joined them into one that is a common thing in homes these days.
The laundry can take up a lot of room when really, it will fit into a nice little cupboard with no loss in usability or space. Check out the room in this Laundry that we've hidden behind the Bi fold doors.
So what did we do?
Removed the Laundry/Bathroom wall and opened up the two rooms
Deleted the bath and created a large walk in shower.
Installed a beautiful "Timberline" wall hung Vanity. These are Australian made products from Armidale and a product we love to use.
Milligans shower screens installed sleek glass shelves in the shower along with the glass shower panel. We were unable to build the recessed niche as the walls were masonry and a structural part of the building
Installed a new Skylight allowing the sun shine in and bringing the room to life
The Kitchen is huge now and we uncovered a window that was in the old Pantry.
The posts could not be removed so we built around them and allowed them to become a feature
The Kitchen sink is a lovely under mount style taking up a minimal area
Give us a call if you would like to talk about doing something like this to your home or unit.
Professionalism, Punctuality, Quality, Responsiveness, Value
I can count 7 renovations Ruth and I have contracted Bob and Steve Nelson and team to carry out over last 15 years or so Each one has been carried out beautifully and on time. Very professional . All trades turn up promptly when required and all materials are on site as needed. No waiting and no delays and no frustration. Clean and tidy work and clean up. No hesitation in using again. As the saying goes " you get what you pay for" Well done team
DOWNLOAD OUR TIPS & GUIDE ON WHAT TO KNOW BEFORE RENOVATING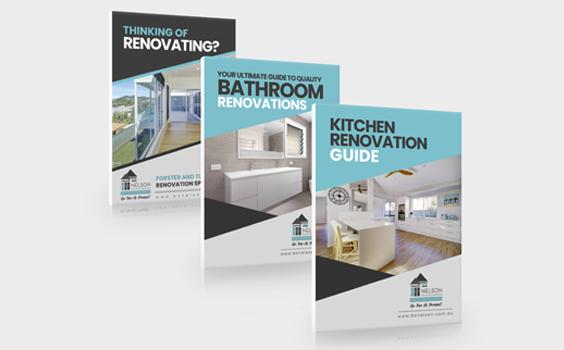 Call your Forster / Tuncurry renovation
specialist today on (02) 6555 3484 and discuss
how we can improve your living spaces.
Either click here to send us a message