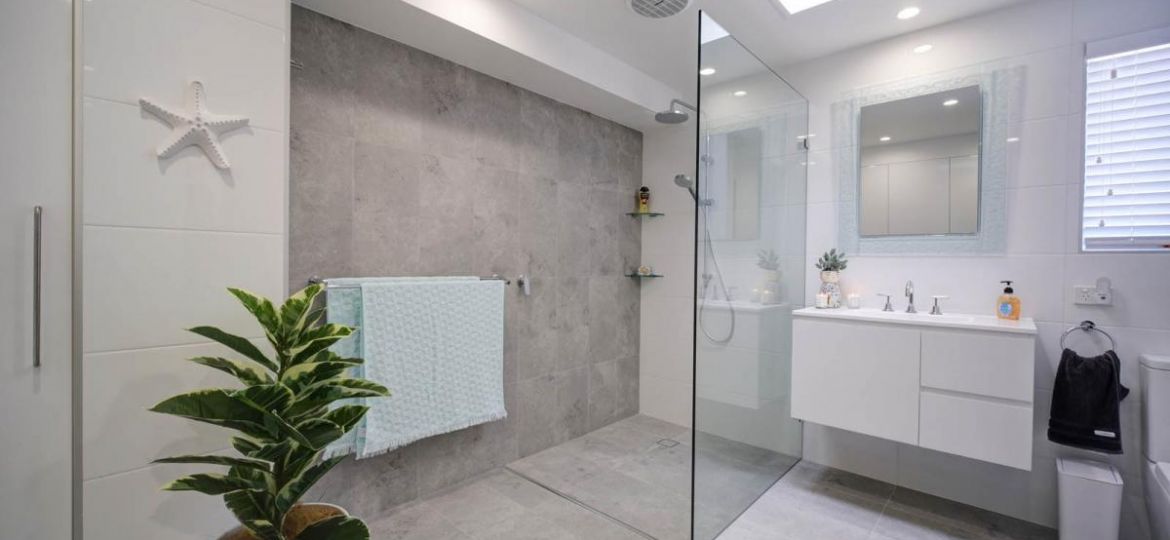 A bathroom renovation is a big job. And a stressful one. But it can also be very rewarding when the job is done.
For some, a bathroom is an oasis. For others, it's about creating clean lines and functional space, but either way you look at it, a lot of careful planning and research needs to go into creating the perfect place to escape, relax and unwind, or simply shower.
Whether you're looking to update an outdated bathroom, increase functionality, or simply create an enjoyable environment, a bathroom renovation is something to consider.
Before you go ahead and start anything, we recommend reading this article. It's a top-to-tail checklist of what you need to complete a full bathroom renovation, from researching and planning the space you like to find the right home builder to get the job done right. This read will cover everything you need to know to get on your way.
Full bathroom renovation
Before you do anything, it's best to get an idea of what you want to do, so that means you'll have to do some due diligence. We recommend checking whether you need building or planning approval to proceed with the renovation. That will depend on the type of renovations you want to do.
You will also need to know what budget you want to work with, as it will ultimately help inform you what is possible and what you need to consider further. It will also help you converse with your home builder so that you are not paying for things that might fall outside your budget.
If you're unsure how to proceed, we recommend approaching a reputable home builder who can give you the advice you need upfront. They will know what you need and be able to walk you through design, planning and all the other fun stuff.
Lastly and importantly, remember that you'll have a period of inconvenience. A home renovation like a bathroom could take several weeks or even months. It's a big project, so keep that in mind when embarking on your renovation plans.
The process should be relatively smooth if you're well-planned and have the right home builder working with you.
Now to the fun stuff. The following is an indicative guide of what to think about with a bathroom renovation and is by no means an exhaustive list – just something to get your head around what to consider for your bathroom.
Plumbing Fixtures and Fittings
Plumbing a bathroom is something to get done right, and any reputable home builder will be able to step you through whether any urgent repairs are required before any renovation work commences.
Once your plumbing is sorted, you can think about what fittings and fixtures would go well in your dream bathroom. Choosing the right fittings and fixtures is a whole topic on its own, but here's a rough guide on some of the products to think about from a planning and budget perspective:
Sink
Tapware for your sink, bath and shower
Shower Head
Shower Glass Clips / Hinges
Bathtub
Towel holders and rails
Toilet
Toilet Paper Holder
Exhaust Fan
The list could go on, but it should give you an idea of what you will likely need.
Storage and Shelves
Storage space in a bathroom is necessary, but the room size also restricts you in most cases. With available space at a premium, making the most of how you use it matters.
While storage isn't the most exciting topic, it should be a consideration in your design. It doesn't need to be droll and boring, though. See how you can balance function and form for a stylish and practical space to store your bathroom items.
It's good to consider adding built-in shelves, cabinets and drawers to keep your bathroom well-organised and looking clutter-free, but how far you want storage space is up to you and your home builder.
Walls and Floors
It's easy to forget about walls and ceilings in a bathroom renovation, but they are extremely important parts of the process, and if they are not done right, they can greatly impact the overall look and feel of the room.
A fresh coat of paint might do the trick, but you can dress up your bathroom renovation differently. From wood panelling to wallpaper and wall tiles, just to name a few, discuss your ideas with your home builder to see what might work in your bathroom that can add that sense of character and mood you're looking for.
Don't forget about the floor, either! Remember that a shower is a place that can get damp, so it's best to consider a type of flooring that will not only go the distance but will provide some level of safety, be waterproof as well as look good.
Extras
With any extras you want to bring into your bathroom renovation, like plants and other aesthetics, they will more than likely come at the end. But it's important to keep them in mind when thinking about where you want to take your bathroom design, as you will want to create a good base where you can add the finer touches on top that add character to the space and help you achieve the theme you wish.
As you can see, there's a lot to think about, but it doesn't need to be hard. If you have a good base of knowledge about what you want and the general direction you want to take things, then take it one step further by discussing your plans with a home builder who can help you realise your dreams.
Looking to Start Your Full Bathroom Renovation?
At B&S Nelson, we are the home renovation experts, helping people create bathrooms that are places of relaxation and style around Forster/Tuncurry. Our understanding of home building/home renovation is unparalleled, and you can have peace of mind that when choosing us as your builder, you are at the centre of what we do.
If you're in coastal New South Wales and ready to renovate your bathroom. In that case, phone the expert home renovation designers and builders here at B&S Nelson today at (02) 6555 3484 or fill in an online contact form, and one of our consultants can contact you at a preferred time.